New bioinert (U)HPLC columns: YMC-Accura Triart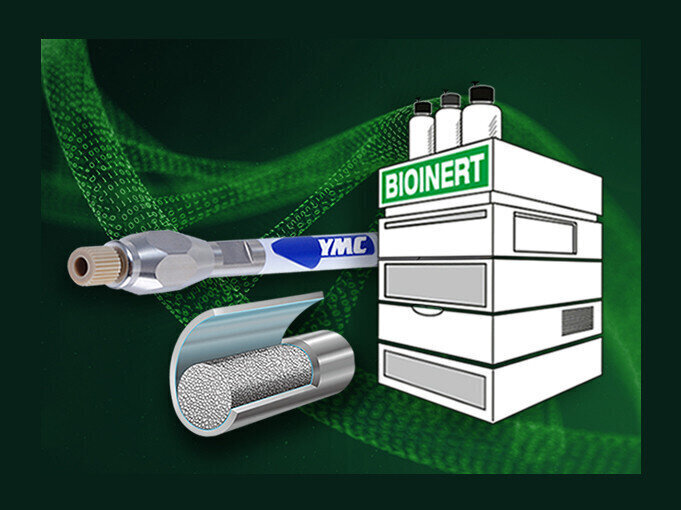 Several substances are able to interact with the usual inert column hardware materials such as stainless steel or titanium. Critical substances in particular are oligonucleotides or nucleotides. Further sensitive substances are various peptides and proteins as well as coordinating small molecules.

The adsorption on metallic surfaces typically leads to peak tailing, loss of recovery and sample carry over. This behaviour can especially be seen when a new column is used without any conditioning before the actual analysis.
Truly bioinert column options
For these challenging substances YMC is offering different bioinert hardware options for their YMC-Triart columns. The newly released YMC-Accura Triart (U)HPLC columns are characterised by a bioinert surface coating of the column body and frit.

The coating is less hydrophobic compared to the PEEK lining used in the well-established YMC-Triart metal-free (U)HPLC columns. These 2 options allow for the optimum hardware for analyses of any sensitive compound.

Further, YMC-Accura columns are ready to use without any preconditioning, which is usually required for analysis of sensitive substances using standard columns.
Ideal combination of stationary phase and hardware
Due to its organic/inorganic hybrid silica base material, YMC-Triart stationary phases contain no metal impurities.

In combination with the bioinert YMC-Accura column hardware, YMC-Triart columns show excellent peak shapes for sensitive compounds, prevent carry over and ensure complete recovery. They are especially ideal for the use in highly sensitive LC/MS analyses.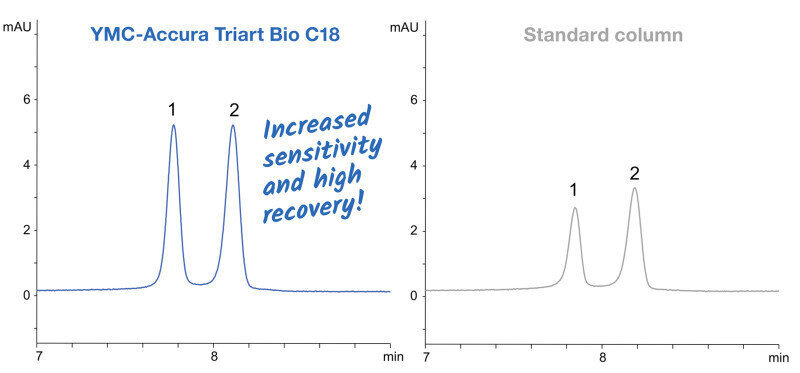 Many phase options
All 8 YMC-Triart phases are available in inert YMC-Accura columns - with 1.9 µm for UHPLC and 3 or 5 µm for HPLC. The preferred choices for e.g. oligonucleotide or peptide separations are YMC-Triart C18 or YMC-Triart C8 with a pore size of 120 Å.

YMC-Triart Bio C18 or Bio C4 with a larger pore of 300 Å are particularly suitable for more hydrophobic oligonucleotides and larger peptides or proteins. Other column options are the polar YMC-Triart Diol-HILIC, the aromatic YMC-Triart Phenyl and PFP and the extremely hydrophobic YMC-Triart C18 ExRS:
How to get optimum results
Even though most interactions with metal can take place in the column itself, YMC-Accura (U)HPLC columns are best combined with bioinert or optimised "non-metal" UHPLC/HPLC chromatographic systems to obtain optimum results.

While YMC-Accura columns can be used without specific connectors, bioinert (U)HPLC connectors such as MarvelXACT™ are recommended. They are available either as PEEK-lined stainless steel or as PEEKsil™ fittings.

New bioinert (U)HPLC columns: YMC-Accura Triart was initially published by Chromatography Today.


Looking for more information? Contact our sales representatives at This email address is being protected from spambots. You need JavaScript enabled to view it. for a personalized consultation.