The Turbiscan is the perfect solution for identification, quantification and comparison of destabilisation phenomena, as well as shelf life testing of dispersions. It can be used to analyse samples of a wide concentration range without dilution or introducing external stress to the samples, thereby ensuring that the samples are assessed in their native state.
The temperature-controlled cell allows measurements to be conducted at storage temperature or accelerated aging to complete the test up to 200 times faster than visual observation. Formulators can assess the stability of their formulations with different sources of raw materials/ingredients.

TURBISCAN – STABILITY ANALYSER WIDELY USED IN ACADEMIA & INDUSTRY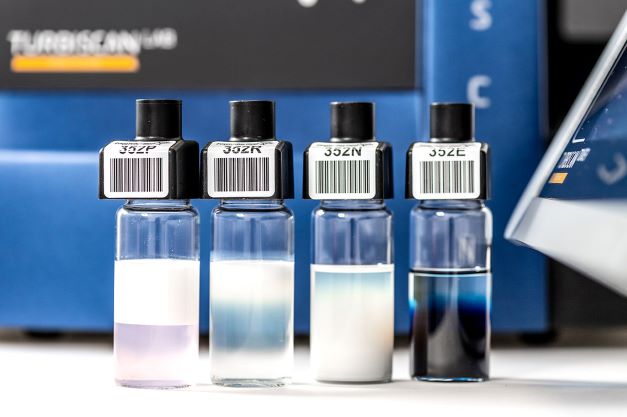 The ability to disperse particles to obtain a homogeneous product is of great interest as it influences the behaviour of the product. Dispersibility defines the ability of the particles to be spatially well distributed in terms of size and concentration in a liquid to achieve the desired size. The dispersibility ratio can be calculated from the Turbiscan's measured data to assess the effectiveness of mechanical dispersion and/or surfactant performance on a given suspension. 
0
YEARS
OF SCIENTIFIC PRODUCT EXPERIENCE
Omega Scientific Pte Ltd
Omega Scientific Pte Ltd was established in 1983 to serve customers in the ASEAN regions by providing dedicated sales and technical support.
With offices in Singapore, Malaysia and Thailand, Omega Scientific is poised to provide analytical instruments, consumables and rehabilitative care instruments that are market leaders in quality and technology.
|
Phone
+65 6744 6645 
Fax: +65 6744 9958
Address
No. 31 Kaki Bukit Road 3, #06-12
Techlink, Singapore 417818
Business Hours
Mondays - Fridays: 8:30AM - 5:30PM