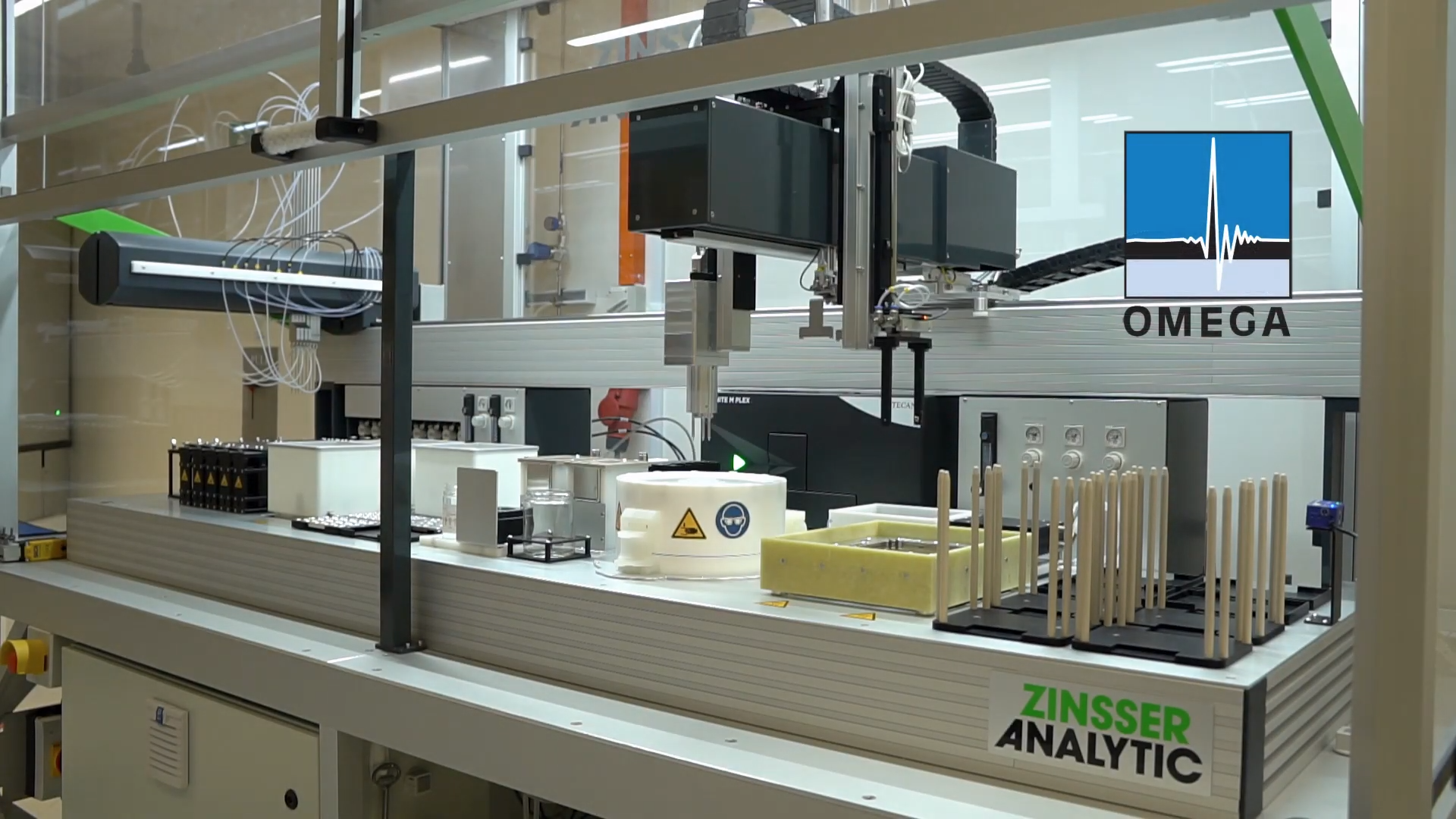 Zinsser Analytic GmbH, with headquarters in Germany, manufactures systems and tools for Drug Discovery, Liquid Handling, Powder Handling, Automated Weighing, and Organic Synthesis that provide innovative laboratory solutions for modern drug discovery, material science and combinatorial chemistry.
Zinsser Analytic has made its name in liquid handling by offering tailor-made solutions for a range of liquid handling applications. The models it offers include the LISSY®, the REDI 2002 Plus, the CALLI®,, the MOSS®, as well as the SPEEDY®.


LISSY® Automated Liquid Handling Platform
The LISSY is modular state of the art robotic system, combining sophisticated and flexible liquid handling with robotic manipulation. The LISSY can be configured to meet customer's preferences that offer enhanced capabilities beyond traditional pipetting and liquid handling, including tasks such as capping and decapping vials, working with very viscous liquids, moving powders as well as liquids. By combining the various tools that are available with the development of software, the Lissy has been configured to solve a wide variety of applications problems.
LISSY®
The LISSY is available with one arm with up to 8 dispensing tips, or two arms with up to 16 total dispensing tips. Either arm can be configured with a gripper for moving plates, vials, and other labware. High working speed, rapid arm movements and a compact syringe pump make LISSY much faster than most systems on the market.

LISSY Customised Liquid Handling Workstation
REDI 2002 plus – for high-precision powder dispensing and weighing

The REDI 2002 Plus can be equipped with a choice of fixed-volume pipette (which can be customized to cater for the density of the resin or power), or fixed-volume tips to be used for each individual powder so as to avoid cross-contamination, or manually-adjustable variable volume tips (from 10 – 400 µl), or software-controlled variable volume tips (1 – 300 µ) Weight reproducibility depends upon the particle size distribution within the sample.
Powders with narrow particle size show precise distribution, with excellent reproducibility. For higher throughput, the REDI 2002 plus can be supplied with up to 8 powder pipettes. The REDI can be equipped with multiple powder reservoirs for selective powder distribution. The REDI 2002 plus can distribute single or multiple powders without cross contamination in a single run.
REDI 2002 plus
The accurate dispensing of powders is an extremely tedious and time-consuming process. REDI (Resin Dispenser), an X, Y, Z dispensing system with a powder pipette, helps to automate sample preparation in analytical applications, in material research and also in modern combinatorial chemistry.
The pipette picks up a pre-determined volume of material automatically and distributes the solid compounds quickly and precisely. The system dispenses granular and powder materials such as seeds, salts or other crystalline or even electrostatically charged material from 1µl to 300µl.
CALLI® Automated Liquid and Powder Handling Platform

The CALLI® combines automatic liquid- and powder-handling with precision-weighing in a single system, thereby opening up new dimensions in workbench automation for sample handling and preparation as well as sample management.
The CALLI uses a X,Y, Z-platform with 4 independent Z-drives for liquid and powder handling and an integrated robotic arm for gripping vials, tubes, plates and pick-up tools, which can then be placed in any position of the workbench area. The precision balance is positioned outside the workbench still within reach of the robotic arm.

The balance stand avoids any mechanical distortion, minimizing the settling time, improving the sensitivity and therefore increasing the throughput. In order to meet individual requirements, the CALLI can be customized with vortexers, hotplates, cooling plates, stirrers, reactor blocks, incubators or other modules from our extensive range of tools. 

CALLI®
The unique software allows the customer to even integrate his own modules. For special applications we offer the service of integration of custom modules. The CALLI -plus is an optional sample management software package, offering sorting functions such as "Hit Picking" of vials and micro tubes by individual sample properties (barcode, weight, product data) and any combination of internal and external database values and entries
MOSS® Automated Liquid Handling and Weighing Platform

The MOSS® performs computer-guided compound-weighing and subsequent liquid-dilution to achieve target concentrations. It is an ideal tool to work in conjunction with a pharmaceutical compound library for both front-end (sample loading into the library) and back-end (plate replication for assay plates) processes.
It is not just another liquid handling system. It offers the complete logistics for weighing, calculated dissolution, assay plate production and hit picking (optional). As many of the library compounds cannot be weighed automatically (unknown physical properties, crystals, jellies, oils, static charged powders etc.), computer-assisted manual weighing has been developed for MOSS.
MOSS®
The MossWEIGH software guides the operator through the weighing process. By reading the barcode of the compound bottle, the molecular weight, the minimum weight (or target weight, which has to be filled into to the dissolution vial), and additional information about the compound (internal code, chemical description etc.) appears on the screen. A progress bar helps the operator to speed up the weighing procedure. Up to 3 Sartorius Genius balances are normally linked to a MOSS system.
SPEEDY® Automated Solid Phase Extraction System

The SPEEDY® is a liquid handling system for Solid Phase extraction and filtration, utilizing the 96-well microplate format. With 4 independent probes, the Speedy automatically conditions and washes the sorbent by adding the reagents through the probes and applying a controlled vacuum to the sorbent or filtration block.
The samples are pipetted by the probes from tubes, microplates or any other sample container, directly or after dilution on top of the separation material. They are processed with positive pressure (nitrogen, compressed air) through the well under a user-defined and software-controlled flow rate and are collected in a 96-well receiving plate. Hence, Speedy can handle difficult sample materials (viscous samples, sera, plasma, cell culture materials) automatically and reproducibly. The variability of the flow rate provides optimum separation conditions.
SPEEDY®
For high sample throughput, the Speedy can be supplied with 2 vacuum stations, and an integrated handler, exchanging automatically separation blocks and receiving plates. A fast delivery 6-way-valve (option) supplies all the necessary solvents from outside to keep the workbench free from solvent bottles.
The high throughput makes Speedy an ideal tool in High Throughput Screening (HTS), Combinatorial Chemistry and diagnostic applications.